Are your mental health programs effective?
With mental health issues on the rise – and the massive hidden costs to businesses becoming more apparent – you need a solution that breaks through the barriers of traditional mental health care.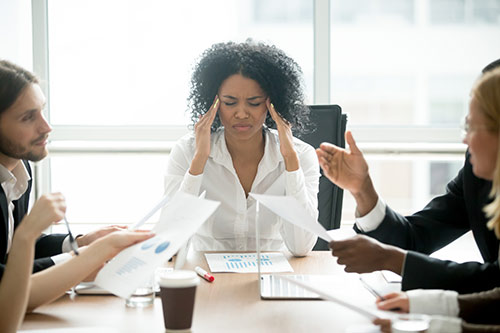 The hidden cost of mental health to your businesses:
Reduces net profits by 14%.
Accounts for 70% of short- and long-term disability costs.
1/5 of employees are affected by mental health every year.
2/3 of affected individuals do not seek help, the other third takes 6-23 years to do so.
The cost to business is not just Absenteeism, but the even more costly Presenteeism.
Old Way
X Delays in getting help
X Limited free access
X Activates stigma fears
X Disincentives high utilization
X Inconsistent quality of care
X Discourages impact measurement
X Is a cost to the business
New Way
✓ Available 24/7, as issues arise
✓ Unlimited access, as required by issue
✓ No intake information required
✓ Actively encourages participation
✓ Consistent and comprehensive care
✓ Powerful engagement analytics
✓ Returns $30 for every $1 spent
Martha George,
President Grand Valley Construction Association
"Mental health can be a real tricky problem: so many people need help but don't seek it out due to all the barriers and stigma. The Life Recovery Program has managed to remove these barriers and I now have a way of ensuring nobody on my team is suffering in silence, and hidden issues don't become bigger problems for the business. Thanks LRP!"
Sean Reid,
VP at Progressive Contractors Association of Canada
"Like many industries in Canada, the construction industry faces significant challenges in the areas of addiction and mental health. Traditional responses are inadequate to address these problems within the complex and shifting contexts skilled trades people work within every day. That's why PCA is proud to partner with Life Recovery Program. Their innovative, online platform delivers the thoughtful, accessible and confidential support so many in our industry need right now. We have been a champion of this program for several years and are pleased to offer it to our own staff as well."